Optidrive variable frequency drives provide advanced electric motor control and are renowned for their ease of set up and use. With the addition of IP66 / NEMA 4X rated enclosures, which are available across the E3, P2 and Eco ranges, they can operate in some of the harshest environments.
The IP66 / NEMA 4X rated variable frequency drives can be used in applications and environments containing large amounts of dust, moisture, and chemicals. They are the perfect choice for applications such as conveyors, mixers, packaging, ventilation and fans, and water or liquid pump systems.
The high level of protection provided allows the drives to be placed directly on, or very close to, the motor and application without the need for a cabinet. This makes them an ideal solution for outdoor applications, retrofitting and equipment requiring washdown.
A coated heatsink combined with the protected enclosure, and a design that eliminates areas where dirt can become lodged, makes them able to withstand strong water jets, which means they are perfectly suited to applications requiring stringent hygiene standards.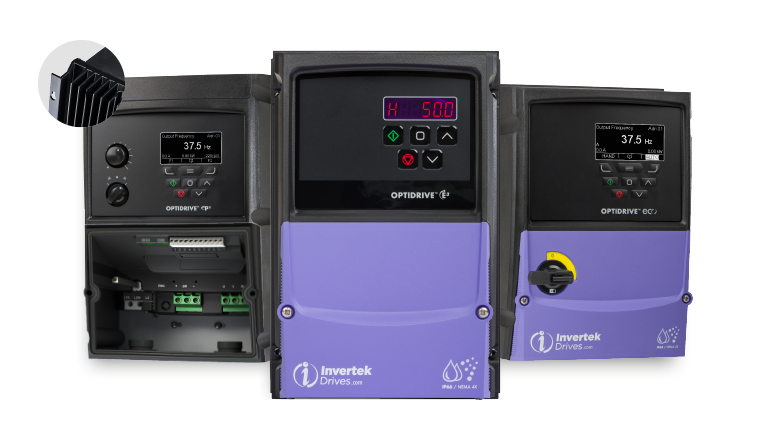 Built for the

harshest environments

Available with or without

local controls

Outdoor rated

tough polycarbonate enclosure

Easily accessible

EMC disconnect

Twin RJ45 ports

for easy networking

Coated heatsink

as standard
IP and NEMA ratings. What are they and which do I need for my application?
Ingress Protection (IP) ratings were developed in Europe and are used internationally. NEMA ratings (also called NEMA Type ratings) were developed by the U.S.-based National Electrical Manufacturers Association. Both IP and NEMA are rating systems for the level of protection offered against exposure to substances such liquids, rain, ice, corrosion and dust.
What are IP ratings?

IP (Ingress Protection) of products is an international rating system that classifies devices for different environmental conditions All electrical devices have an IP rating which are defined in International Standard EN 60529. The rating provides a consistent measure of sealing effectiveness of electrical devices against intrusion from foreign bodies such as dirt or water.
What does IP rating mean?
The IP rating consists of two digits.
The first digit is the rating of protection against solids on a scale of 0 to 6, with 0 meaning no special protection against solids and 6 being the highest level of protection and means the device is dust tight.
The second digit is the protection rating against liquids on a scale of 1 to 8, with 0 meaning no special protection against liquids solids through to 8 which means there is protection for prolonged water immersion.
OPTIDRIVETM IP Ratings
IP66

- The dust proof, washdown duty Optidrive

Solids rating 6 - means the Optidrive enclosure is completely dust tight
Liquids rating 6 - protected against strong water jets and waves

IP20

- The finger proof Optidrive

Solids rating 2 - Protects against fingers or other objects not greater than 80mm in length and 12mm in diameter
Liquids rating 0 - means there is no special protection against liquids

IP55

- the splash proof Optidrive for dirty environments

Solids rating 5 - Provide protection against dust that may harm the Optidrive
Liquids rating 5 - Protects against low pressure water jets from all directions
IP and NEMA equivalent
NEMA stands for National Electrical Manufacturers Association. NEMA ratings can be approximately compared to those of the IP system as shown below. Other factors such as corrosion protection are involved in the NEMA system (please refer to official documentation for details).
While NEMA and IP ratings are not identical, they are very similar and can often be used interchangeably for the purpose of rating enclosures for industrial environments. Both IP and NEMA ratings specify the standard of protection against ingress of liquid and solid objects, primarily dust. NEMA ratings go a step further and specify protection against the presence of corrosive agents.
| | |
| --- | --- |
| IP Rating | NEMA Rating |
| IP20 | NEMA 1 |
| IP55 INDOOR | NEMA 12 |
| IP66 OUTDOOR | NEMA 4X |